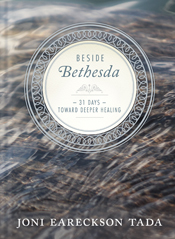 From the publisher's website: "A 31-day devotional from bestselling author and speaker Joni Eareckson Tada that takes readers on a month-long journey toward the deepest healing God offers. The entire book is framed against Joni's visit to the healing pool of Bethesda to seek healing where Jesus healed.
As Joni relates aspects of her own journey in dealing with the most painful "unanswered prayer" of her life, readers will learn to see beyond potential quick fixes to the deepest and greatest solutions God has for them. As the journey continues, readers deal with topics such as contentment, patience, unanswered prayer, transformation through suffering, wrestling with God, and hoping in God."
This was a nice devotional. I think it could really help someone who is need of deep healing find support and realize that they are not alone. I didn't like that each devotional basically had a story of hers and then a verse or two from whichever translation fit what she said. I felt like she should have used more scripture in the devotional. I did really like the concept of the man being healed by Jesus at the pool in Bethesda and how we can be healed too.