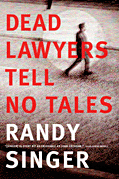 Dead lawyers tell no tales by Randy Singer is an excellent read. It's a mystery involving a former football player who was jailed for being a part of a point shaving scheme and his attempt at being a lawyer.
There are lots of fun twists and turns in this book. When I began reading the book I immediately related to the characters although it did take me several chapters to really "get into" the story. My one criticism is the number of chapters, 93 and a prologue and epilogue, as well as their length. Some of the chapters were understandably ended because the next chapter began with a different character and setting. Others, however, were broken up in the middle of the same setting or day.
In light of that, I found the story compelling and interesting. I couldn't put the book down and couldn't wait for the conclusion, which in my mind, was a little unexpected. What I thought would be the logical conclusion to the story happened as well as a twist that I did not see coming. I highly recommend reading this book. It was very enjoyable and I would read it again.
You can purchase this book at
Christianbook.com
.