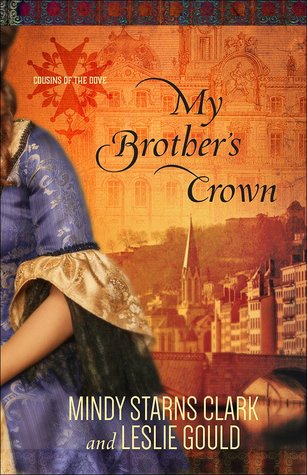 Goodreads description says,"From Christy award-winning authors Mindy Starns Clark and Leslie Gould comes a brand-new sweeping family saga. Close-knit cousins are individually led on a redemptive journey as they follow the threads of their family's mysterious past and discover how it impacts the future.

Renee Talbot, a director in her family's 350-year-old paper company, is facing a huge problem: how to stay afloat in an increasingly paperless world. When her grandmother asks for her help in finding answers to some unsettling family-related questions, Renee's search for truth takes her to Europe, where she learns the story of Catherine Gillette, an ancestor who lived in seventeenth-century France. Headstrong and independent, young Catherine's brave actions saved the original paper company--and various members of the family--during a time when the French Huguenots were being persecuted by Louis XIV.

As Renee tries to save the company and her family's legacy, she draws courage and wisdom from an ancestor who stood strong and faithful when life was at its most perilous and God seemed to expect more from her than she ever thought she could deliver.
"
I enjoyed this book from the start. The authors take us back and forth between Catherine Gilette in 17th century France and Renee Talbot in present day Virginia. The characters are relatives as Renee is an descendant of Catherine. I enjoyed the use of historical facts interwoven throughout this book. Louis XIV's France was very interesting to read about, as well as the plight of the Huguenots. I hadn't heard of them before reading this book actually.
I felt Renee was a very real, strong character, a mature, modern and intelligent woman which greatly contrasted to the young, immature Catherine. Sometimes I found myself rolling my eyes at Catherine's impulsiveness. I had to remind myself that she was a very sheltered and, in a sense, spoiled young woman of her day. But that didn't deter me from enjoying the book and being eager to read the next installment of the series.
BELOW CONTAINS A FEW SPOILERS
My only real criticism was the fact that the major traumatic incident that surrounded Renee wasn't completely concluded in my opinion. She finally faced her fears and went back to look for evidence and you never found out what actually happened. I guess you could say that they kind of concluded it because they went back and everyone finally believed them and the police had a plan to investigate, but it still felt like a loose end to me. There is always the possibility that they will continue that in other books in the series since this is the first book in the series.
All in all, I enjoyed the book and look forward to reading more about them in the following books.
I was given an advanced copy of My Brother's Crown by NetGalley.com in exchange for my honest review.