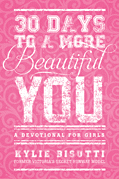 Kylie Bisutti, former Victoria's Secret Model and author of the book,
I'm No Angel
has written a new devotional just for girls. It is a 30 day devotional and it contains scripture references and "true beauty tips" to help you be more "beautiful" just as you are. I liked this devotional. It was short, yet still deep and inspiring.
One of my favorite quotes came after the day's devotional on Romans 12:2, "Do not conform to the pattern of this world, but be transformed by the renewing of your mind. Then you will be able to rest and approve what God's will is - His good, pleasing and perfect will." Kylie talks about how trying to fit into what the world thinks we should look like causes us to lose our God given individuality. She says, "God has created us not to be clones, but to be unique individuals." This is a small little book, yet it has a big, encouraging message. I recommend it for any "girl".