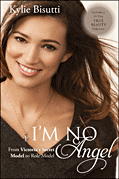 I'm no Angel by Kylie Bisutti is Kylie's story of how from her early teen years she struggled to make it in modeling and then to winning the Victoria's Secret Runway Angel competition. Then she began struggling spirtually with her life in the modeling world. She shows a rare behind the scenes look at modeling and shares her testimony.
I have been wanting to read this book since I saw it reviewed on the
Women Living Well blog
. I really liked the way Kylie presented her story. It felt like you were just talking to a good friend. She is so honest and forthcoming with her testimony and how she came to know the Lord. It felt as if I was coming into her confidence and she was sharing it with me personally. I really enjoyed this book.