If You Have a Craving, I Have a Cure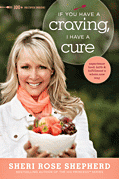 From the publisher's website: "Life can be hard . . . but food, faith, and fun are three amazing gifts from God to satisfy and refresh us every day. Yet all too often, we focus primarily on what we can not
do
, and what we should not
eat
—which leaves us feeling deprived and depressed. Instead of being energized by following Christ, we waste our days feeling bored and burnt-out on our faith, while battling the guilt that comes from craving the food that we love. In
If You Have a Craving, I Have a Cure
, best-selling author and speaker Sheri Rose Shepherd encourages you to embark on a new adventure with faith and food. She reveals the food coaching tips that enabled her to lose over 50 pounds and keep it off, and shares fun recipes in celebration of the healthy, delicious food our God created for us to enjoy. It's time to let go of guilt, grab hold of grace, and recapture the life God craves for us to live! "Taste and see that the Lord is good. Oh, the joys of those who take refuge in him!" (Psalm 34:8)"
I really enjoyed this book. I have met Mrs Shepherd in person at a women's retreat and she is just a lovely woman with her heart focused on helping others. At the end of each chapter is a QR code that you can scan with your mobile device and it will take you to a video that summarizes the chapter. I liked that. I thought it was a fun way to incorporate the book with social media. Also, each chapter has life recipes to go along with the food recipes to help your spiritual life. She recommends passages in the Bible as well as tips such as "have a date night, go out with girlfriends" and the like. I highly recommend this book. I unfortunately haven't been able to try any of the recipes, but I will be posting about those when I get a chance. You can't go wrong with this book, get it now!!
Buy If You Have a Craving, I Have a Cure
here
.