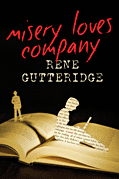 From the publisher's website: "Don't tell me it's terrifying. Terrify me.Filled with grief, Jules Belleno rarely leaves the house since her husband's death while on duty as a police officer. Other than the reviews Jules writes on her blog, she has little contact with the outside world.

But one day when she ventures out to the local grocery store, Jules bumps into a fellow customer . . . and recognizes him as her favorite author, Patrick Reagan. Jules gushes and thoroughly embarrasses herself before Regan graciously talks with her.

And that's the last thing she remembers—until she wakes up in a strange room with a splitting headache. She's been kidnapped. And what she discovers will change everything she believed about her husband's death . . . her career . . . and her faith."
I stayed up late last night finishing this book. It was really good. It started out interestingly and then slowed down so I wasn't sure what to expect from it. It surprised me in lots of ways. I really became involved with the characters and the mystery wrapped up completely differently than I expected. I also liked the header at the beginning of each chapter that mirrored the cover of the book. I thought that it was a nice creative touch. This is a novel that is kind of about writing. It is really interesting to see the thoughts on writing that this author conveys during the course of the book. I never thought about it in that way before, how involved and committed to their stories writers can be. Very good book, I highly recommend it.
To comply with new regulations introduced by the Federal Trade Commission, Tyndale House Publishers has provided me with a complimentary copy of this book in exchange for my honest review.
Buy Misery Loves Company
here
.