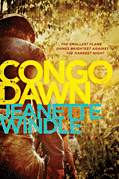 From the publisher's website: "While former Marine lieutenant Robin Duncan is no stranger to corruption or conspiracy, she has always been able to tell the good guys from the bad, and the Congo jungle at first seems no different. But as her security team tries to track down an insurgent killer, Robin has to face a man who broke her trust years ago, and she discovers the gray areas extend farther in this jungle wilderness than she anticipated.

A ruthless global conspiracy begins to surface, run by powerful men who can't afford to leave any witnesses. Her life at stake, Robin doesn't know who to trust and wonders how she can help protect innocent people. Why is God silent amid all the pain and injustice? And how do these people of faith continue to rejoice in their suffering?"
I thought that this book was alright. I think that my only real criticism is that the subject matter didn't appeal to me. I felt that it was well written and the character were relatable and well developed. I like the details and I felt like the author set the scenes very well, I just didn't really get that "into" the book because of the subject matter. It just doesn't interest me. I do recommend reading it though. I am glad I did.
Purchase Congo Dawn
here
.