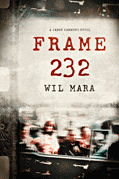 President John F Kennedy was assassinated in 1963. Zapruders famous film shows the assassination as well as another woman filming across the street. This woman nor her film have ever been found. Several theories believe that Lee Harvey Oswald didn't act alone and that the mysterious "babushka lady's" film could prove it. Well what would happen if the film was found? Wil Mara's book takes that idea and runs with it. This book begins a new series featuring Jason Hammond a wealthy humanitarian who seeks to solve history's mysteries.
I couldn't put this book down. I absolutely loved it. I was riveted from the first few pages. Mr Mara takes such care with using historic details as well as interweaving fictional details. The characters are wonderfully developed, scenes are described in detail as if you were actually there and the ending has an unexpected twist. Mr Mara takes you on a wonderful and exciting journey, you don't want to miss it. I have no complaints with this book at all. I enjoyed his writing style and the story at large. I'm very excited to read his next book , I can't wait!!
You can purchase Frame 232 at
ChristanBook
and
Amazon
.