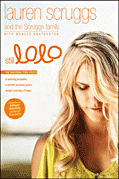 Still Lolo is a book by Lauren Scruggs and family about her propeller accident. Lauren was at a family friend's home when they suggested they take their plane for a little flight over the property. The flight went well however when exiting the plane it was very dark and Lauren was hit by the propeller's blade. She was struck on her left side, injuring her brain, eye, shoulder, clavicle bone, and severing her left hand. This book gives background on her life growing up and her recovery following the accident and how she leaned on God to help her throughout her difficult recovery.
It is a very good book. I especially liked the perspectives of her family during her recovery. I like how they formatted this book. Her story is so encouraging. She didn't have an easy time dealing with her injury and she didn't shy away from her shortcomings. The inclusion of
Her mom dad and twin sisters stories really helps to see the whole picture of their lives up to during and after the accident. When I finished reading this book, I was greatly encourage and felt uplifted by God's plan for Lauren. It was a wonderful feeling to have after reading such a compelling story.
You can buy Still Lolo at
Amazon
or
ChristianBook