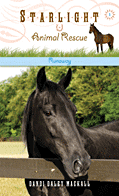 From the publisher's website: "Meet 16-year-old Dakota Brown. She used to love all things "horse" until she lost everything, including hope. The minute she sets foot on her foster parents' farm—Starlight Animal Rescue—she plans her escape. But can an "impossible" horse named Blackfire and this quirky collection of animal lovers be the home she's always dreamed of?
Starlight Animal Rescue: Where problem horses are trained and loved, where abandoned dogs become heroes, where stray cats become loyal companions. And where people with nowhere to fit in find a place to belong."
This was an interesting book. Dakota is a typical untrusting teen and coupled with being an orphan she really has no interest in opening her heart to anyone. Even before she steps foot in her new home she is scheming to runaway. That's the overall theme of this book, fight or flight. There are wonderful characters and wonderful horses. Horse lovers especially will enjoy the encounters with horses. I think this book is good for teens and up.